Larger Than Life
My solo exhibition 'Larger than Life' was at the Grand Union Gallery, Birmingham, between 6 September – 7 November 2014 culminating in the 'Burning of Old Selves' performance on 7th November, a film of which can be found below.
Acts of Clothing – Venice
I will be performing Acts of Clothing in Venice.
Palazzo Zenobio
Fondamenta del Soccorso
Dorsoduro 2596
30th May, 31st May & 1st June at 15.30
To book please mail mark@theartistsagency.co.uk
See www.veniceagendas.eu for more details.
Arts Pavilion Bournemouth presents, during the preview week of the 55th International Art Exhibition, la Biennale di Venezia, Boîte-en-valise, a series of live art performances by established and emerging practitioners, curated by Professor Stephanie James (Arts University Bournemouth) and Carol Maund (Arts Bournemouth).
Appropriating and transmuting Marcel Duchamp's Boîte-en-valise and responding to Venice Biennale Art Director Massimiliano Gioni's theme of The Encyclopedic Palace, each of the selected artists has been asked to pack work in a suitcase and travel to Venice for presentation at Palazzo Zenobio.
Venice Agendas is a series of breakfast events and performances during the preview week of the 55th Venice Biennale. This is the eighth in the Agendas series, which since 1999 has examined different aspects of contemporary art practice. This year's event focuses on performance art and the alternative scene: its history, legacy and future.
Events at CZ95
Wednesday 29 May: Live Art—Are you here? Were you there?
Breakfast: 9am Event: 10am–12pm
Chaired by Jean Wainwright, speakers include Kathy Battista, Tony Heaton, rAndom International, Lois Keidan, Lauren A Wright and artists Marcia Farquhar, Joan Jonas, Marta Jovanovic, Andrea Pagnes and Verena Stenke.
New News – Flaxman Exchange
Upcoming…
Next week I will be taking places personally again.
Flaxman Exchange 11-16 March 2013
Marcia Farquhar's Flaxman Exchange is UCL Art museum's inaugural Flaxman Gallery artist commission. 
Artist Marcia Farquhar will lead, or mislead, a tour of the newly refurbished Flaxman Gallery and other significant spaces of UCL. 'To find out where you are going you must come', she says.
Farquhar has made it a significant aspect of her practice to question and deconstruct the role of the tour guide. Her performance persona in this context is very much herself, the outsider/ insider imbued with the understanding that history is in the process of being made and as such is always 'half made'.
Farquhar's method of stitching together the factual and the fictional, critical analysis with myth and personal anecdote is the work of a consummate surrealist composer.
She confesses to taking places personally; her site specific tours of UCL address schisms, sculpture, memory, pictorial lies, profanity and femininity.
Each one will be unique.
Performances:
Monday 11 March, 6:30pm
Tuesday 12 March, 6:30pm
Wednesday 13 March, 6:30pm
Thursday 14 March, 4pm
Thursday 14 March, BSL performance, 6:30pm
Friday 15 March, 6:30pm
Saturday 16 March, 8pm
The performances are free but booking is required. Book now on Eventbrite as spaces are limited:
Mind Your Heads
Been and gone…
LINCOLN
A last chance to visit the oldest friary in England and see Mind Your Heads, a live performance in which I will be joined by Ansuman Biswas and Jem Finer.
Saturday 9th February 2013
The final exhibition of Mistaken Presence, 'A'Denouement' is having a closing event which will include Mind Your Heads  at 1pm.

Three conjoined wheelie bins occupied the Greyfriars friary throughout the duration of my exhibition Mind your Heads (2012). Nomadically maneuvering throughout the space these ominous yet familiar structures were activated on April 27th of last year when I conducted a three-way dispute between my selves on the subject of the supernatural. As well as hosting the divided self these makeshift pulpits provided spaces from which three ideologically opposed speakers could move further and closer to each other in space, time and paradoxical speech. And this will happen again for the last time on Saturday 9th February 2013 at 1pm.
The Greyfriars
Broadgate
Lincoln
LN2 1HQ
photo credit : Tom Cretney
The Open University at the Bournemouth Arts Festival
The Open University will take place on the sea front on the 29th September, as part of Bournemouth Arts by the Sea Festival 2012
Frog Pond Plop
Marcia will be appearing at this event hosted by Richard Wilson.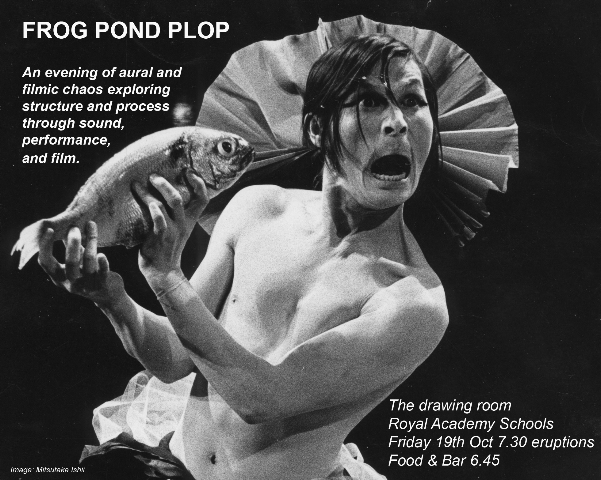 A Thousand Contradictory Theories
Part of the Bournemouth Arts by the Sea Festival 2012 Forever Frankenstein programme. From noon till midnight, Marcia Farquhar will offer a long durational reading from the original 1818 version of Frankenstein.
Beginning in the grounds and moving into the manor, the performance, indebted to the late Andy Kauffman, will engage in asides and associative drifts alongside the dedicated reading.
www.artsbournemouth.org.uk
When:21 Sep 2012 12:00 – 00:00 One day only
Where: Shelley Manor, Shelley Park, Boscombe, BH5 1LX Bournemouth
Tel:01202 451820
Moby Dick, Big Read
Marcia will be reading Chapter 61 in Moby Dick, Big Read.